IS THE NEW NORM OF WISHING-WELL GIFTING... SHIFTING?
In a modern world where most Aussie couples live together before tying the knot (over 80 percent in fact), the tradition of receiving home-wares and kitchen items on your wedding day has lost appeal. Wishing-wells have become the norm, but not everyone is comfortable with the notion of asking for cash in exchange for a seat at the party. So what are the options and which is best for you?
THE BOXED GIFT
In my time as a wedding planner and even a guest, my only experience of a couple opting in to the "boxed gifts" or traditional household items present options is seeing engraved silver jugs gathering dust in my parents cabinets. As mentioned, for various reasons, this approach is dying if not dead. While some reflect on a more wholesome or simple approach with nostalgia, I squirm at the thought of money being spent on items that are unwanted and will either be regifted or gather dust, so as far as I'm concerned...
PROS: traditional; seen as polite..?
CONS: high risk of receiving items you don't want or need; burden for guests to choose something you might not want or need; very annoying to transport if your wedding is far from home... etc.
THE TRADITIONAL GIFT REGISTRY
When I say "traditional," I mean the kind where you scroll through a catalogue of items selected by the couple, pick one, and pay online. This doesn't seem to be a particularly popular approach these days, but it's not without merits! Friends of mine who went for this option couldn't speak more highly of the perks of the chance to select stunning items - think Smeg kettles, framed art, beautiful salt and pepper shakers... and even a couch - for the next phase of their life. They posited that while they'd lived together for ages, the homewares they'd accumulated and dragged from dodgy house to tiny apartment were frankly, "shit-house" .
Their new collection of high-end, quality pieces not only delights them on a daily basis, but is also a tangible reminder of the wedding guests, as they made sure to take note of who bought each piece. If you're thinking that giving items like couches is unreasonably generous, most registries have a "contribute" option so you're not paying the whole amount.
Big-box retailers such as David Jones offer gift registry services which quite honestly draw me in to this notion... forget stuffy crockery, check out these spunky In The Roundhouse plates, this Dinosaur Designs bowl and even this sexy AF decanter by Carrol Boyes ... goals am I right??
There are also some great alternatives who allow you to select items from a variety of physical and online stores and link them in one place, like mygiftregistry.com.au
PROS: when else would you get a whole lot of awesome stuff of your choice bought for you?!
CONS: you may end up selecting things you don't really need for the sake of it
THE (VERY) MODERN GIFT REGISTRY
The gift registry space has been a really exciting area of innovation in recent years and one of my favourite approaches is the brain-child of the (superstar) team behind Wed-Shed... Gravy.
With a "mission to change the way we gift," allowing couples to ask for literally anything, from cash to cat-sitting and everything in-between, Gravy tickles my fancy for a few big reasons. Firstly, as expected from Wed Shed, the design is sexy and modern. Secondly, creativity is encouraged. Wine subscriptions, blood donations, house-painting help.... the list goes on as to what can be included. I would be really excited to receive this link from a friend and compile a gift package for them that includes a contribution towards an experience plus a commitment to a number of blood donations. This feels like the best of both worlds, and allows guests of all financial situations to give.
Another great option is The Hint Registry. Friends who used this loved how easy it was to use and the flexibility in having cash contributions towards items like a bike and a new set of dining chairs as well as honeymoon experiences.
PROS: super flexible; a bit more palatable for some (than asking for cash); opportunity to be generous to charities; more comfortable for those in a tricky financial position
CONS: you'll have to provide the link to guests somehow but that's really all I can think of in terms of cons
THE (PHYSICAL) WISHING WELL
The most common option I've seen lately is the wishing well. Usually introduced in a wedding invitation via a poem or a "you don't have to but...." inference, the physical wishing well is usually a box at the wedding reception in which guests are invited to place envelopes holding a card and some sweet sweet cash.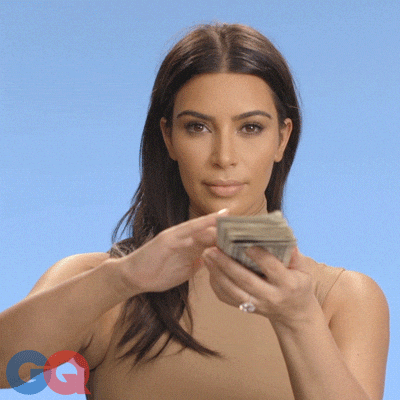 As commonplace as it has become, the wishing well doesn't sit 100% pretty with everyone. Like any decision associated with your wedding, I ALWAYS advocate for choosing what suits you and ignoring the neigh-sayers, and for many, the pros of this option far outweigh and cons.
PROS: easy for guests; you still get a cute card; no complex links or QR codes; guests can choose how much they want to give without being bound by items at specific costs; you can buy whatever you want with the cash or even pay for part of the cost of the wedding; no one doesn't like some extra cashola
CONS: some people find it crass to ask (or be asked) for money in exchange for attendance; physical cash can be lost (or heaven forbid stolen); getting money out at an ATM can be a pain in the a$s
Spoiler alert; tune in next week for some tips on how to ask guests for money politely, among other touchy subjects (you guessed it: kids).
HAVE YOU EVER THOUGHT OF....
Recently I was hashing out this convo with a friend isn't a fan of the cash approach. I argued my aforementioned view on wasted kitchen items etc, and she shared her ideal gift request, which I happen to love.
She had recently been at an intimate 60th birthday dinner, and guests were invited to select a bottle of wine from the birthday boy (man)'s wine selection for the table to share, and noticed that many of the bottles had notes written on them. Long story short, this bloke and his wife had asked each of their wedding guests to gift them with a bottle of alcohol (wine, spirits, whatever) and to write a note or at least the giver's name on the side of the bottle so that they knew who had supplied the tipple each time they enjoyed it. They had continued this tradition at milestone birthdays and needless to say, established quite the selection.
I love the idea of something unique like this that can stand the test of time. The benefit of alcohol is that the price range is virtually infinite so guests can choose their spending and many bottles, particularly of spirits or red wine, last for ages. The note on the side means that, like the Smeg toaster, the gift can make the couple think of specific guests and even snap a photo of the drinking experience or send a message saying thanks when they crack it open.
If a regular beverage is not your vibe, this could be done similarly with each guest gifting their favourite book with a note in the front if you'd like to build-up a book shelf, or if you're really wanting to let guests off the hook dollars wise (for example in the event of a destination wedding)... asking for each to provide a set of recommendations (restaurant, holiday spot, recipe....).